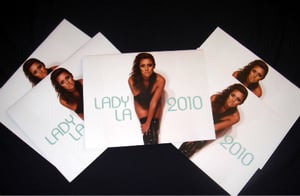 $

15.00
Autism is a growing epidemic. That is what fueled me to create the Lady La 2010 Calendar. I had no budget to work with, a strict daily workout and diet, and very talented friends to help me complete an often talked about but never executed idea. I have included behind the scenes pictures along with the finished product so you can see personally how the calendar came about. If it wasn't for my little brother Derrick, I'm not sure I would have ever REALLY got this done.
My youngest brother is autistic which is why I have chosen to donate HALF of every calendar sold to an Autism Foundation here in the Valley. Autism is a developmental disorder that appears in the first 3 years of life, and affects the brain's normal development of social and communication skills. Most parents of autistic children suspect that something is wrong by the time the child is 18 months old. Some children appear normal from ages 1 to 2 then suddenly "regress" and lose language and social skills they had previously gained, like MY brother. To say this condition has changed my life and my family's life is an understatement. The numbers are increasing EVERY year with children who are diagnosed. All of these children require hundreds of therapy hours, thousands of dollars in vitamins, and thousands of dollars in dietary needs in order to be somewhat recovered, there is no cure. However, there are some families who believe they were able to recover their children through bio-medical treatment. THERE IS HOPE. Please take the time to buy the calendar and support this cause, it affects children all over.
From my family to yours, thank YOU for every ounce of love and support!
Lady La